What if I kept my promises to myself?
Last week, I got to spend some incredible time with Katie Martin, author of Learner-Centered Innovation. While Katie and I have known each other since the first round of #IMMOOC (which was two years ago), and have continued to develop our friendship since, we had never met face to face. It was a dream come true to pick her up from the airport and have some time to dive deep into conversation with her. I truly appreciate her friendship and loved how our shared experiences brought us even closer together. Who knew that Katie and I would have so much in common, especially when it comes to the juggling act that being a mom and an educator brings on (but that will have to be for another post).
The next day was a powerful one. Over 300 educators from the Louis Riel School Division got to learn alongside Katie (check out #LRSDInnovate). What I appreciated most from the day was that while she provided us with much inspiration, Katie also gave us time to reflect, plan, and collaborate. Often times when educators leave an incredible PD, they are pumped and ready to make change, only to go back to reality once the day is over without much to show for it.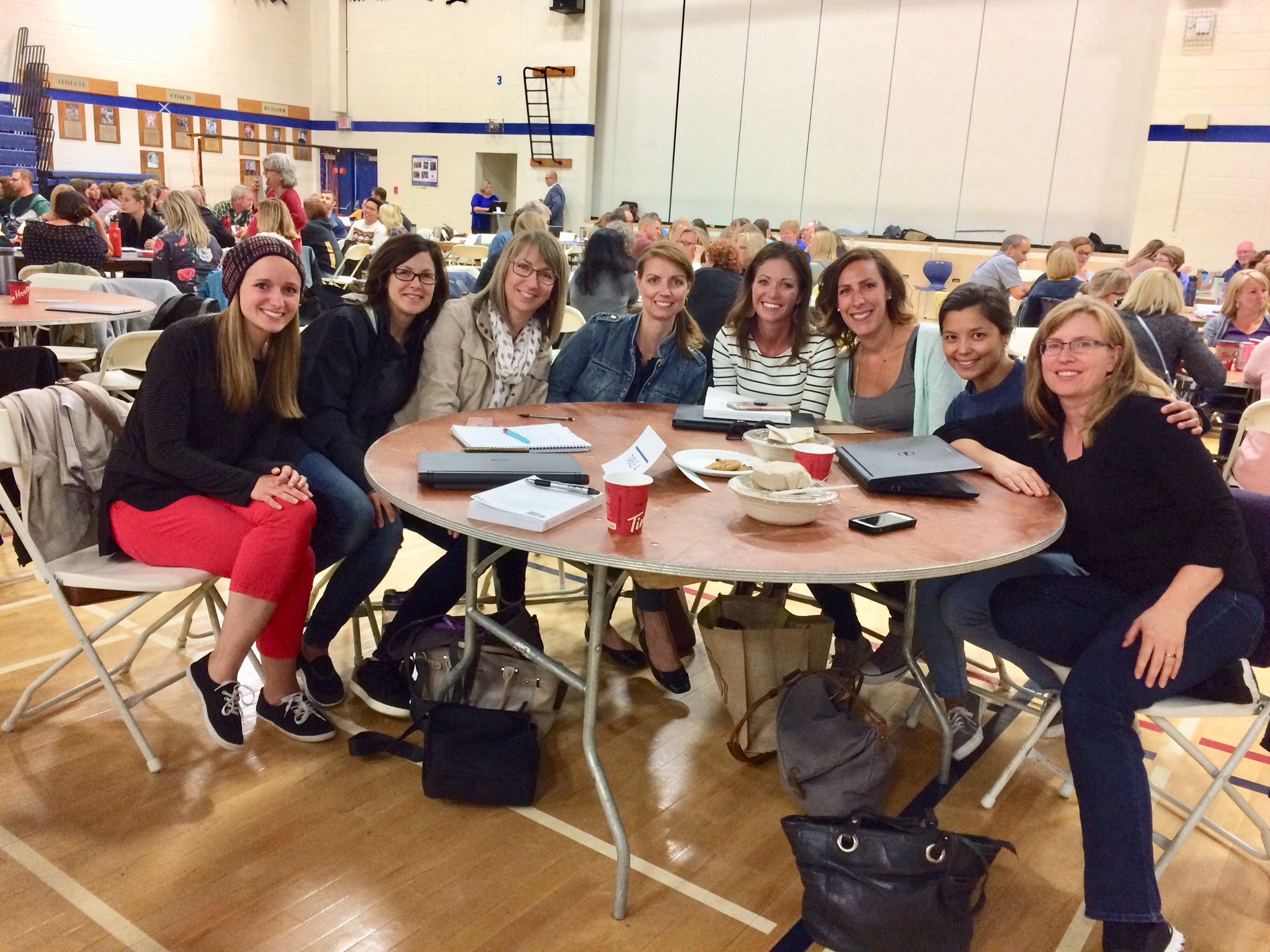 This wasn't happening with Katie and embedded time for reflection, collaboration and planning was made a priority.
I've been following Katie's work closely for two years now, so as the morning went on, I knew the important "What if…" question was coming, and I couldn't wait.
What if…
Two little words that can lead to powerful change, if we are open to dreaming up and exploring different possibilities. Two little words that I felt ignited a whole new mindset in the room. Two little words that got our district dreaming big all while putting learners first. Two little words that created a sense of wonder among educators that are ready to take the leap. Two little words that connected us all. Some wrote down their ideas, while others tweeted them out. We had time to reflect individually and then share with our colleagues. Finally, some shared their ideas with the whole group.
What if we didn't have report cards? What if we could create a culture of learning where students problem-solve, experiment and focus on the learning process over the end product? What if every teacher felt comfortable inviting just one colleague into their classroom to observe teaching? What if we focused on incorporating passions and interests into our learning?
So much food for thought!
Friday night, after the busy work week had come to an end, I curled up in bed and started reading Girl, Wash Your Face by Rachel Hollis, a book that Katie recommended during one of our many conversations about the struggles we both face. This book breaks down lies that women tell themselves that end up holding them back. With Katie's "What if" challenge still fresh in my mind, I started reflecting on this lie that we tell ourselves all. the. time.
"I'll start tomorrow"
In the chapter based on this lie, Rachel pushes us to think about our commitments and how we keep our word when we say we're going to do something… except when we give our word to ourselves. I found myself nodding throughout this entire chapter as if I could've written it myself. I will go to the moon and back and make myself sick over holding up my end of the deal when I've said I will do something, but in the same breadth, I will dismiss and put to the side everything that I told myself that I would do. Rachel encourages us to start small in order to start creating new habits where we keep our promises to ourselves. This forces us to really consider what it is that we are telling ourselves AND others. Overfilling our plates takes away from the time we have to do what we told ourselves we would do. And telling ourselves that we are going to do a million and one things is also unattainable. I know that's easier said than done, and I will be the first to admit that this is something I struggle with all the time, but I also see how important it is for me to work on it. Just keep swimming!
What if I kept my promises to myself just like I keep my promises to others?
What if I was intentional with my commitments to others?
What if I say no without offering a 5 minute explanation as to why I'm saying no?
What if I stopped feeling guilty when I say no to something?
What if I truly thought about what I was telling myself before saying I'm going to do it?
What if I was honest with myself?
What if I started putting myself first?
And although I realize that there are countless other "What if" questions I could be examining right now, many that are perhaps more closely linked to education, I've decided to start here… because I do believe that we are no good to others unless we take take of ourselves first. Besides, I told myself that I was going to start putting myself first; I probably shouldn't break that promise. 🙂